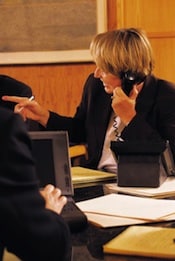 What makes a leader? Is leadership a genetic trait or a learned ability? Leadership development is one of the major concerns of American executives. Business owners are frequently faced with the problem of developing leadership skills among executives and managers.
The kind of skills that will enhance any leader's position and that could create a leader from someone with raw talent, come under what I call the "resilience factor." Within this factor are the qualities of flexibility, the win-win philosophy, quality over quantity, toughness, and foresight.
How the resilience factor is demonstrated:

Flexibility: No matter what surprises lay in store for this leader, he or she is flexible enough to do what works in the moment. He or she can learn from even the lowest employee in the hierarchy.
The Win-Win Philosophy: Competition is a waste of time for this leader. This leader's philosophy is that everyone wins.
Quality over Quantity: Doing things fast is replaced by doing things thoroughly, efficiently and with quality. The leader who has mastered good interpersonal skills has a devoted work force, family and clientele. Therefore, taking the time to do it right and to learn from others pays off.
Toughness: Leaders who win are tough. They don't give up. Their employees and family members can count on them to come through. They aren't afraid to speak, nor to speak an unpopular position.
Foresight: When leaders speak, they have thoroughly researched their opinion. Winging it was OK in those start up years, but if you want people to follow you, be thorough.
The bottom line is that resilient leaders recognize the abilities and talents in others as well as themselves. These leaders realize that their greatest contribution to the business is their ability to lead, to cultivate excellence in others, to create a quality business with longevity. Without developing the interpersonal skills that create trust and confidence in the leader, this is just not possible.
For more on being a resilient leader, read my article – Cultivating Resilient Leadership Can Help a Family Business Succeed or visit Entrepreneurial Life.