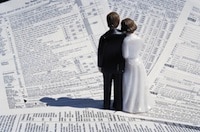 We live in a world of duality … positive/negative, good/bad, male/female … and balance is the act of giving each side attention and respect. Having a positive outlook on life is just fine, but looking only on the bright side is like the proverbial ostrich with his or her head stuck in the sand. You also need to look at what is going wrong, or not working, or not even in the ballpark of reality. If you fail to account for the negative side of things, you fail to plan and live your life fully. How can you correct your mistakes, if you never sort through your flaws and problems? To sum it up, my motto is: HOPE FOR THE BEST, but PLAN FOR THE WORST. That way you've got everything covered.
For entrepreneurial couples and families in business, there are two unpleasant areas which are regularly ignored and therefore never planned for … death and divorce. There are more entrepreneurs planning for business succession than planning for divorce. Planning for the possibility of divorce of an entrepreneurial couple is a real taboo, apparently. Most couples fear that if you plan ahead for the possibility of divorce, you are setting yourself up to create a divorce.
Paradoxically, by planning for the possibility of divorce right from the start of a marriage and business venture, an entrepreneurial couple has to focus on those things that actually will help strengthen their marriage/partnership. By digging deeply into who you are, and what you want, you have the opportunity to negotiate with each other to make your desires come true. Instead of resentments building, the trouble spots are planned for. Therefore the entrepreneurial couple has a better chance of facing the problems head on, learning from them, or even avoiding them. Planning for the worst in this case isn't a prescription for divorce, but insurance against it.
Death is inevitable, but divorce is not. If you avoid thinking and talking about the possibility is just as foolish as ignoring the inevitability of death. If you want to get started planning for the worst but hoping for the best with regard to creating a healthy, long-term, successful marriage/business partnership with your spouse, try asking yourselves this question: If one or the other of us wants a divorce in the future, why would that be and what can we do now to prevent this?
For more information on this topic, read my article – Five must-answer questions for passing on the family-owned business or visit Entrepreneurial Couples – Couples at Work and Home
My book Entrepreneurial Couples – Making it Work at Work and at Home is available for purchase.