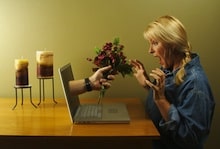 Online dating has become increasingly popular over the last few years. It is also a multi-million dollar business. Everywhere you look, you see advertisements claiming that you can find your true love by joining an online dating service and paying a fee. Online dating services claim that matchmaking is science and by using mathematical algorithms, they can find you your perfect match.
Psychological Science in the Public Journal is publishing an article about the other side to online dating . . . The side that online dating sites don't tell you. For one thing, can there really be a scientific formula that accurately matches two people for endless love? The algorithms that are used to match prospective lovers are not published, so you do not know what they are using to match you. They also do not collect enough data and they do not factor in how an individual's environment can change what they are looking for. In order for a real match to be evident, you need to meet and evaluate how you communicate, how to solve problems, and if there is a physical connection.
This blog is not to tell you not to use online dating, but rather to give you the other side of the coin. Finding a loving and compatible relationship takes a lot of hard work and persistence. A key factor in finding someone is first knowing yourself. Self exploration will make it easier to identify what you are looking for in a partner. Take note of your strengths and weaknesses and include everything from physical, emotional, and spiritual.
Therapy is also a powerful way to learn more about yourself. A therapist can also give you practical tools to finding someone compatible with you. If you live in the Portland, Oregon/Vancouver, Washington area, contact my office to set up an appointment.
For more information, visit my webpage – Advice for Singles Only.