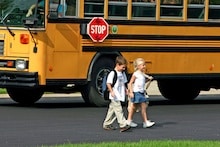 Think back to when you were 6 or 7 years old. You may not have realized it at the time, but your body was undergoing a profound hormonal change. Scientists refer this time period as the
Theory of the Mind
. The brain is reaching its adult size while tens of billions of synapses connections are being made. Loads of information is being "downloaded" and organized. Impulses are being controlled, plans for the future are being made as well as intense reasoning ability.
Children at this age also beginning to comprehend deep subjects such as death, justice, social rules, and relationships. In the area of relationships, children in middle childhood start to learn the value of love reciprocity. The selfishness that a toddler once displayed with no longer work. In order to get love and attention from parents, you must give in order to receive. What a valuable lesson to learn at such a young age.
Stop to consider what middle childhood would be like with an Asperger parent(s). Asperger Syndrome is a high functioning form of autism. They have trouble reading non verbal cues, lack empathy, and struggle with communication. Imagine what it would be like to not learn loving reciprocity because of the AS parent's mind blindness. When that child begins to reach out for love and attention they are often rejected, even if it's unwittingly. The results of this can have a damaging effect on the child.
In many cases, a child who is raised with an Asperger parent marries someone with Asperger's. This is because your childhood modeled your ideals of marriage. The question then becomes, can you change the pattern after all of these years? Can you learn to allow true love into your life even if you learned that love is one sided?
The answers to those questions will be discussed at the Asperger Syndrome: Partners and Family of Adult with ASD Support Group Meetup on February 18, 2012 in Portland, Oregon. If you do not live in the local area, please become a member of our online community and join in on our discussion groups. I would also encourage one-on-one therapy with a therapist specialized in Asperger relationships. Contact my office for more information.
If you would to learn more about middle childhood, I recommend the New York Times article – Now We Are Six – The Hormone Surge of Middle Childhood.