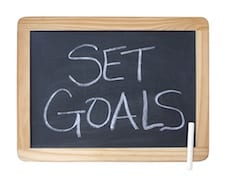 Goals are what separate the doers from the dreamers. When you set out to be a successful entrepreneur, goals are a must. A word of caution . . . even though you come up with the most brilliant goal, it won't do you any good useless you actually do it! Action is required.
You may be struggling to set and attain realistic goals for your business. Here are a few tips to enable you to do so:
– Be specific. Setting a goal is one thing, but you must also set specific parameters. A goal must be realistic and achievable. If it's a long-term goal you may want to have smaller goals along the way to enable you to put into practice what you set out to achieve or at least measure your progress toward reaching the larger goal.


– Strategize. Think about the when, what, and how. Many have found that committing a goal down in writing to be helpful in this regard. Use your Google calendar, a cell phone alarm, a day planner . . . whatever works best for you. If you don't have a game plan then you are shooting in the dark.
– Have the proper attitude. A positive attitude is proven to be more effective than a negative one. Be a risk taker. Don't be afraid to try new things. If something isn't working, don't get discouraged. Some of the most successful entrepreneurs failed many times but the key to their success is they try again. Even though you set a goal, you may not always attain it. Instead of viewing it as a failure, look at it as an opportunity for growth. Look at how far you came and what you learned along the way. You may realize that what you set out to achieve really wasn't that attainable, so it's time to reevaluate and set a new course.
If you are looking to set some legitimate goals for you and your entrepreneurial future, I suggest making an appointment with a professional psychologist who is also a business consultant/coach. They can help you to set and define goals specific to you, your personality, and your business style. I have been a licensed psychologist and business coach for over 35 years and I consistently see the value behind setting goals. Contact my office for more information.
Visit Entrepreneurial Life for additional information.