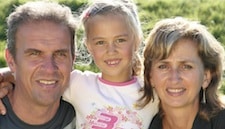 Thousands
of children are adopted every year in the United States. Raising an adopted child and growing up adopted only applies to a specific group of people. Because of that, it does make them different, creating a unique set of challenges. Adoptive families can create a successful family unit, but the key to doing so is knowledge and application of such knowledge.
If you are thinking about adopting a child or have done so already, it is vital that you educate yourself about the effects that adoption can have on you and your child. You are both involved in a completely new experience and you must be prepared. Where can you go to educate yourself on parenting an adopted child? Fortunately the resources are endless!
Books and seminars are a wonderful place to start. You can also consider joining a support group with other parents that have adopted. Finding a group of people that can relate to the blessings and the challenges can be a real source of comfort.
Being an adoptive parent myself, I have found that one of the most valuable resources would be to regularly speak to an adoption professional who is also a mental health care professional. Since each adoptive family is different, this type of professional can specifically address the needs of your family. Books and seminars are for the masses, but a one to one discussion will be completely focused on your needs and the needs of your child. If you live in the Portland, Oregon/Vancouver, Washington area, I would be happy to assist you. Contact my office to set up an appointment. If you live elsewhere, speak to your doctor or pediatrician for a referral.
The blessing of raising an adopted child are plenty. Take the time to be prepared to meet the challenges. You'll be happy you did! For more information, visit Adoptive Families.