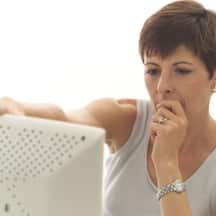 Sadly, divorce is common in Asperger marriages. It has been described that being in a marriage with someone with
Asperger Syndrome
(AS) is like walking on eggshells. What does that mean? For example, men with undiagnosed AS often feel as if their spouse is being ungrateful when she complains he is uncaring or never listens to her. He knows what he thinks and how he feels, so should she. He has no motive to understand her interior world so her complaints are bothersome to him. He can come to be quite defensive when she asks for clarification or a little sympathy because he knows that he has good intentions so he resents the pressure. The defensiveness can turn into verbal abuse (and sometimes physical abuse) as the husband attempts to control the communication to suit his view of the world.
So, what can you expect if you divorce an Asperger man? Unfortunately he will probably not understand why the woman wants a divorce and he is likely to be quite angry about it. Not knowing how to handle his distress he may turn the energy into revenge. It is believed that many high conflict divorces are the result of the negativity and obsessing of the AS partner regarding the wrongdoing he perceives of his NT spouse. It is likely to be a long, painful and expensive divorce where all suffer, including the children. Some Aspies however, just leave quietly and never remarry because they cannot quite figure out how to rebuild a life separately from their former spouse. Some NT former wives report that their former husband even still refers to her as his "wife" years after the divorce.
If you are struggling in your Asperger marriage, seeking counseling. Click here for my therapy recommendations for this type of situation. With husband and wife working hard, the marriage may be salvageable. I also recommend reading Life with a Partner or Spouse with Asperger Syndrome: Going Over the Edge? This book specifically addresses the touchy issues of sex, rage, divorce and shame and gives a glimpse of the "inner workings" of these relationships. It offers new ways to look at the situations presented, as well as tips on how to handle similar situations in one's own life. Click here to download a FREE sample chapter.