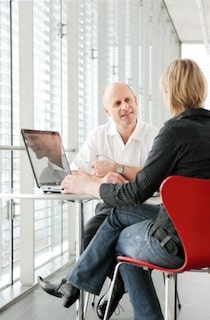 Compensating relatives is a sticky business. Not all people are really created equal. It is sometimes very difficult to assess and compare the talents of family members who are also employees. Nor do all family members contribute equally to the business. As a result of the stress that this causes, many family business owners ignore the problem and let compensation become a breeding ground for dissension in the family.
If you want a successful family business, you must push your anxiety aside and develop a compensation plan. To develop a fair compensation plan for your business, follow these five steps:
1. Write up accurate job descriptions for each employee. Include responsibilities, level of authority, technical skills, level of experience and education required for each job.
2. Identify what your compensation philosophy is. Do you want to pay about average, or higher? Do you want to attract talent from other companies? Do you want to offset the typical male/female wage differential? Are you a training ground for young, inexperienced people?
3. Gather information on the salaries of similar positions in your industry. Size up companies that are similar to yours in number of employees, revenue, product, geographic location, etc. What salaries and other benefits do these similar organizations pay their employees?
4. Develop a succession plan. How will a successor to the leadership be identified among family member/employees? How will they be prepared for leadership? How will this choice affect the morale of the family/business? How will this successor be compensated?
5. Design an affordable plan. Obviously you want to do the best you can with the dollars you have. What can you afford to compensate each family member/employee relative to their contribution?
After you have a compensation plan that reflects the family's values as well as sound business practices, you are in position to negotiate an employment contract with a family member. It is important that everything is spelled out up front so that when you have an annual review, there is a way to compare employee performance with outlined expectations in the job description. Salary increases can then be based upon the employee's true accomplishments.
As the CEO of a family business, make the best decision you can for the business. As a parent or a spouse, encourage your family member/employee to achieve their greatest potential within or outside the business. In this way both business and family wins.
For more on Entrepreneurial Life, visit Families in Business.