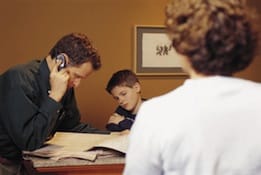 With as many as 1.5 million Americans
having some form of autism, including milder variants, autism is a hot
topic.  In 2009, the movie "Adam" highlighted the difficulties of falling in love with someone who has Asperger Syndrome and currently NBC's "Parenthood"
has a character with Asperger Syndrome. When I talk to couples in these
difficult relationships, they're not that interested in Hollywood,
they're looking for real life solutions.

With so much emphasis
being placed on Asperger Syndrome, many are left wondering, how can
someone co-parent with an Aspie partner? What about the children of an
Asperger parent? How can a child thrive when his or her parent has so
little empathy?

I've been moved to investigate these sensitive and unique issues especially after writing "Life with a Partner or Spouse with Asperger Syndrome: Going over the Edge? Practical Steps to Saving You and Your Relationship." As many of you know, I am currently writing a new book entitled, "Parenting with a Spouse or Partner with Asperger Syndrome: Out of Sight, Out of Mind."

I have found that
when you live with Aspies it's the ordinary things of life that cease
to function properly – like getting enough sleep, or asking your spouse
to pick up a child from soccer practice. When co-parenting with an Aspie
these ordinary things become strained and turn into not-so-ordinary
moments leaving the Neuro-typical (NT) partner feeling drained,
unnerved, and tense. In fact many NT spouses/partners report a variety
of psycho-somatic and immunodeficiency illnesses such as migraines,
arthritis, gastric reflux and fibromyalgia.

If you find yourself in this situation, you are not alone. There are answers to this dilemma and I will continue to write about those answers. I encourage you to download a FREE
sample chapter of "

Parenting with a Spouse or Partner with Asperger Syndrome: Out of Sight, Out of Mind."

I will continue to keep you updated on any news about the book and when it will be available.