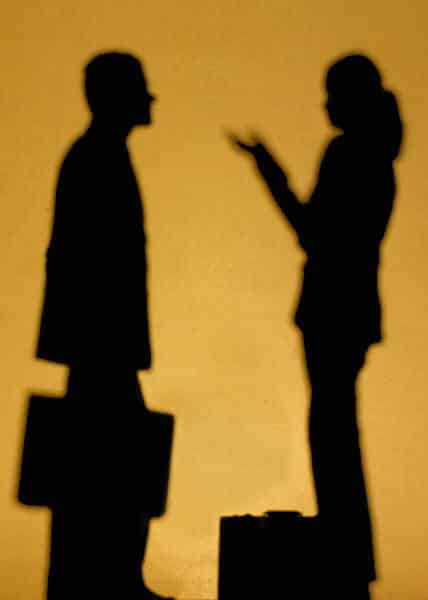 Doesn't it feel good when you've had a meaningful exchange of thoughts and feelings with someone who really understands you? It contributes to your sense of self-worth, belonging, and security. On the other hand, it can sour your day when communication goes wrong because of misunderstandings. What determines the outcome of your conversations?
The most important part of communicating is listening. It's been said that that's why we have only one mouth but have two ears. You can't assume that you understanding someone simply because you know them well or you have much in common. Not only does a person have to listen to the actual words spoken, but there's so much more that communicates feelings and thoughts.
Communicating is an art. It's
a complex on-going process
that can be done skillfully with time and real effort.
Here are three tips that will help you to improve your listening skills:
Listen for the meaning

. Words often don't reflect what the person really means. Become a better listener by asking yourself, "Why is he or she telling me this?" Put yourself in his or her shoes and try to discover the meaning behind the words or behavior.

Notice why the speaker chose you

. When people communicate they unconsciously and many times consciously identify a certain person to talk with. Perhaps you have purposefully been chosen because the speaker needs a certain kind of feedback that they hope you will give.

Accept the meaningfulness of all communication no matter how small

. Do you tend to dismiss "small talk" as unimportant? There is nothing small about. It is a quick way to build rapport and trust between people. It's how we stay connected. Often in our busy lives we skip the small talk and get on with the agenda and, as a result, relationships suffer.
An important part of listening is truly caring about the other individual. If you are genuine, the other individual feels appreciated and tries that much harder to send you clear signals that require less translating.
If you've tried to develop good communication skills but you're still experiencing difficulty, seek out the assistance of
a skilled therapist
. Are you near Portland, Oregon or Vancouver, Washington?
Contact my office
and set up an appointment. You'll learn life long skills that you can use to improve all of your relationships