"If you have been brutally broken
But still have the courage
to be gentle to other living beings,
then you're a badass
with a heart of an angel."
~ Keanu Reeves
Brutally broken?
Most of us cannot say we have been "brutally broken." Life is complicated and often treacherous. Every so often we get a reprieve from the heartache and suffering. Then life can be peaceful, joyful, and downright glorious.
I have similar ups and downs, just like all of you. We find a way to resurrect our lives after a major set-back. We grieve the loss of an elderly loved one. We suck it up when there is a reversal of fortune. We hunker down and work harder toward our personal goals when they have been sidelined by the ordinary obligations of life. In spite of these set-backs, we usually let go of the grieving after a while.
However, sometimes the loss is too great and we are brutally broken. I doubt the survivors of the Uvalde massacre (what else can I call it?) will ever have another moment of joy that is not tinged with intense unremitting grief. I wonder if they can let themselves love again, when their child/ sibling/ grandchild/ friend had their life cut short so young and so violently?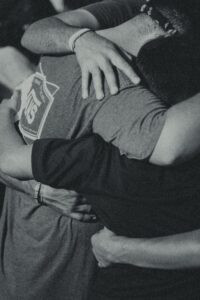 As a psychologist, I am asked about how to help the children who are going through the shock of their lives right now. Not just the children in Uvalde, or Texas, but around the country. Of course, many children have nightmares or are fearful of returning to their classrooms.
I am also asked what can be done for the parents who are grieving, or who are terrified that the same could happen to their children, in their town, in their school.
Of course, it is important to reach out to those who are personally going through this heartbreaking and horrible tragedy, but my focus in this brief article is on those who are retraumatized by Uvalde. They suffer silently because their pain is not of the moment, but of unspeakable tragedies past.
How do we lay to rest unspeakable tragedies?
First of all, we cannot move on from unspeakable tragedies if we don't speak about them. Not everyone will listen to you, but I will. I am one of you who has lost my precious children to parental alienation, but whatever your trauma, your heart is worth knowing.
I had no idea that my ex-husband Howard would go so far as to brainwash our children against me and destroy the hearts of his family — and thus their sense of safety. In fact, I didn't believe it for years, as I denied the horrible things he did.
I carried on through an onslaught of 12 years of ruthless attacks on me and my daughters. I was sued, harassed, stalked, assaulted, arrested, and defamed to my licensing Board. All told I hired 16 attorneys during those twelve years, to handle over 20 legal matters, and costing me $550,000. I survived by using my wits and borrowing on my house and credit cards.
One of my attorneys told me that a jury wouldn't believe I had suffered since I carried on very well in public. Since I wasn't acting traumatized, in the hospital, homeless, or dead, he reckoned that I would just have to move on – without my children.
Apparently crying myself to sleep night after night — all alone — wasn't sufficient evidence of suffering. Neither was burying myself in my work as a clinical psychologist or writing books on NeuroDivergence. How could a jury understand that keeping myself busy, kept the terror at bay?
Let the terror break through.
It is too soon for the families and friends in Uvalde to begin the healing process. There remain years of terrifying thoughts to suppress. If you can be there for them, please protect them as they grieve. Make them a sandwich. Turn on some pleasant music. Mow the lawn for them. But do not make them talk yet about the unspeakable horror that invades their every waking moment. Hold them when they cry and say nothing except that you love them.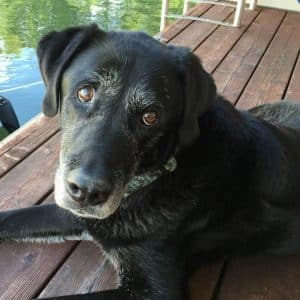 For me, the terror broke through when my dear dog companion Simon died. I also lost his little cat buddy Neo. They were old and frail and needed me to help them pass, so I did. Only then did I allow my own unspeakable tragedy to surface. This was 19 years after the start of Howard's psychological warfare. It took a long time to be able to face that I would never again see my daughters — or meet my grandchildren — 19 years.
I suppose this is what Reeves means by "the courage to be gentle with other living beings." My big Black Lab, Simon was 14 and little Neo, was 16. I loved them with all of my heart. They were my family during those harsh times. My children got swept away by emotional abuse, but Simon and Neo were steady and protective companions. I loved them beyond measure (as any pet parent knows). When I let them go, it was amazingly peaceful.  I held them gently, stroking their soft fur, as they fell silent in my arms — so great was their trust in me.
Become a Radiant Empathy Angel.
When you are finally ready to face the terror, it will wash over you with unforgiveable fierceness. You may be unable to sleep or eat or remember how to get your car pointed home. But I guarantee that it will pass quickly if you are ready to step into your courage and embrace the heart of a Radiant Empathy Angel. Reeves calls these folks "badass" but I prefer the term "warrior."
A Radiant Empathy Angel, or Gentle Warrior is someone who has weathered the most unspeakable tragedy, and yet hasn't lost their humanity. They not only know they have a job to do to make the world a better place, but they are no longer keeping busy to suppress the terror. To become a Radiant Empathy Angel is the only door that is open to you if you are to heal.
If you stay stuck in your grief, you will be retraumatized time and time again by the brutal world we live in. If you keep a lid on your terror, you won't allow the rekindling of love in your life (and the world desperately needs more love). The only way out of this dilemma is to become a Radiant Empathy Angel — which requires the heart of a warrior.
I still grieve. I still give up on myself from time to time. I still suppress the terror occasionally. But I am getting better at flying high as a Radiant Empathy Angel. When I let the love flow and trust that God is right there — you know what I mean, right there? Then I get a sweet text that reminds me it pays to be a Warrior in service to others.
Here's one of those God messages I got from a client right after his therapy session with his wife:
"I'm not sure I can put into words what you did for us just then. So, whatever you take from this you can multiply it be a factor of a lot….YOU.WORK.MIRACLES. You're awesome. Thank you from the bottom of my heart. . . . You rock! I'm so very grateful to have found you. Thank you Kathy."
If you have been "brutally broken" by one of the cruel actions of others, whether that be a war, a rape, parental alienation, or a mass shooting — I hope you realize that you can heal. Furthermore, when you rise out of the ashes of your despair, aim to operate as a Radiant Empathy Angel. With this spirit of a Warrior (or Badass as Reeves tells it), you will do far more than survive an unspeakable tragedy — you will work miracles too.