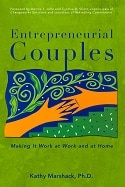 When I was growing up, entrepreneurship was out of the ordinary. The norm was that you'd get a job with a company and stay there until you retired.Later when companies downsized and people lost their secure positions, many had to get creative and make jobs. The entrepreneurial lifestyle took off like a rocket. Men and women individually became entrepreneurs. But what really interested me was that men and women in romantic relationships ventured into the entrepreneurial arena together.
Over the years, these entrepreneurial couples have stumbled through the challenges without much of a roadmap. So they didn't have a lot of wisdom to pass onto the next generation. They were still trying to figure it out by trial and error. Helping these couples that kept appearing in my office for marriage counseling is what motivated me to write my book in 1998, Entrepreneurial Couples Making It Work at Work and at Home.

What about the state of entrepreneurship today, almost 20 years later?
According to the Kaufmann Foundation, in their 2015 State of Entrepreneurship Study, baby boomers (born between 1946 and 1964) are twice as likely to launch a new business compared to millennials.
Baby boomers who worked for corporate America are turning to entrepreneurship rather than retiring. Many of them want to make a difference and do something meaningful with their lives. While others just need the income and they don't want to work at Walmart or McDonalds. And now that the kids are gone and they're empty nesters, many baby boomer couples want to spend time working together.
Statistics show that a smaller percentage of millennials (born between 1982 – 2004) and Gen X (born 1965-1984) are pursuing entrepreneurship. It's not that Millennials don't want to start their own businesses. A 2016 report from EY and the Economic Innovation Group found that 62 percent of millennials have considered starting their own business, but they can't afford it (paying off student debts most likely).

What's the trend for entrepreneurial couples?
According to the U.S. Bureau of the Census, 90 percent of American businesses are family-owned or controlled and Harvard Business School estimates that at least half of all companies in the US are family businesses. A study by National Federation of Independent Businesses reported that there are just over 1.2 million husband/wife business teams.
According to the Statistic Brain Research Institute:
| | |
| --- | --- |
|  Percent of family owned businesses that remain in the family into the second generation | 30% |
| Percent of family owned businesses that remain in the family into the third generation |  12% |
| Percent of family owned businesses that remain in the family into the fourth generation |  3% |
| Number of husband and wife teams running companies |  1,200,000 |
| Percent of family owned businesses led by a female CEO or President |  24% |
| Percent of family owned businesses that indicated the next successor is a female |  31.3% |
|  Percent of family owned businesses that have women in top management positions |  60% |
|  Percent of Fortune 500 businesses that are family-controlled |  35% |
|  Average amount donated annually by a family run business |  $50,000 |
| Percent of family business owners that expect to retire by 2017 |  40.3% |
|  Percent of those retiring who have not selected a successor |  47% |
|  Percent of family business owners who have no estate plan beyond a will |  31.4% |
Why do family businesses and entrepreneurial couples fail?
Statistic Brain shows that 60% of failures are because of problems with communication and trust. 25% because of lack of preparation from the next generation. 15% because of all other issues like poor financial planning, legal advice and so forth.
The interest in family businesses and couples who run the business together has not diminished. That's why I'm happy to release the second edition of my book, Entrepreneurial Couples – Making it Work at Work and at Home. You can get the paperback or kindle edition on Amazon.
Its timeless and proven wisdom is based on my years of working with entrepreneurial couples from many walks of life and business styles. I've seen their struggles and I've documented what does and doesn't work. This book will help you get to know yourself and your partner on the deepest level possible, ensuring you can communicate what matters most to you.