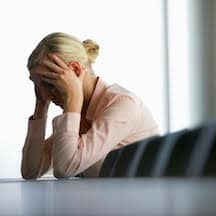 Have you ever wondered if you're at risk for depression? It's an illness that can affect anyone, regardless of age, race, class, or gender.
Millions
will suffer from depression this year. Who are the most likely to become depressed? What are the determining factors? Following is a list that discusses the various factors that affects depression:
1. GENDER. Women, regardless of nationality or socioeconomic level, have higher rates of depression than men. This may be in part due to hormonal changes often experienced during the days before menstruation, the postpartum period after delivering a baby, and around menopause. Women are also affected by the difference in their social status from men.
2. SOCIAL AND ECONOMIC CONSIDERATIONS. Being in a low socioeconomic group is a major risk factor for depression. However, people of all income levels are likely to be depressed if they have poor health and are socially isolated.
3. SEVERE OR CHRONIC MEDICAL CONDITIONS. Depression follows or is caused by many medications or serious medical problems.
4. EMOTIONAL AND PERSONALITY DISORDERS. Chronic depression is a frequent companion to anxiety disorders. Personality disorders, such as borderline and avoidant personalities, appear to strongly predispose people to depression.
5. SUBSTANCE ABUSE AND ADDICTIONS. It is estimated that 25% of people with substance abuse problems also have major depression. Internet addiction is a more recent phenomenon that may a pose risk for depression as well.
6. SLEEP DISORDERS. A study of male medical students found that young men who experience insomnia are twice as likely to suffer from depression at middle age.
7. FAMILY HISTORY. A family history of mental illness, especially mood disorders, appears to predispose a patient to the development of depression. Often a combination of genetic, biologic, and environmental factors are at work. Children of depressed parents are at a higher risk for depression and other emotional disorders.
Even if you don't fall into the categories listed above, if you think you might be depressed don't delay in getting the help you need! If you live near Portland, OR/Vancouver, WA please contact my office and schedule an appointment.
Read more on my website: Overcoming Depression.