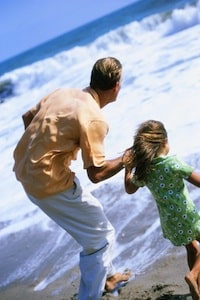 There are a growing number of stay-at-home dads – up to 2 million in 2012. According to Pew Research Center 8% of homes have single fathers. Can a father bond with his child as strongly as the maternal bond at birth? And does it matter if the child is his biological child?
These questions were asked and answered in CNN's story, Dads' brains are ready to bond with kids. It discusses the finding from the largest parental brain study to date. The scientists wanted to determine how male and female brains function differently as parents, and more specifically, how men's brains are changed by fatherhood. What did they discover?
The amygdala, which regulates emotional response and allows the maternal bond to occur quickly, became highly active in mothers after giving birth. The months of pregnancy accelerate this connection.
Secondary caregiving fathers' brains showed a strong response in the neural network that regulates social cognitive processing.
Primary caregiving fathers activated both of the above-mentioned areas of the brain after a short time.
Being the primary caregiving parent activated the most response. Professor of psychology and lead researcher, Ruth Feldman concluded, "There's something really strong that makes mothers bond with the infant right when they're born. Fathers need a little more work for that to happen."
Across the board, they found that fathers, whether primary and secondary caregivers, increased amygdala activation when they increased their time taking caring of the child. It didn't matter if the child was biological or adopted.
Ever one of the five key areas of being a good parent takes time – listening, consistency, teaching, modeling, and loving. Now we have scientific proof that it takes time to change the brain in order to form that close bond with your child. If you don't feel close to your children today, perhaps it would be good to ask yourself, "How much time am I spending with each child?"
Read more on my website: Adoptive Families and Parenting.