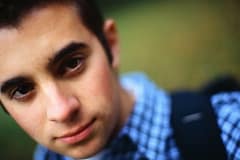 Do you have a hard time getting your teens out of bed? Especially with a new school year beginning, getting enough sleep can become an issue. A recent CNN article, "
Doctors: Early school start times unhealthy for students
", suggests that schools shouldn't start before 8:30am. They support this by a recent statement from the American Academy of Pediatrics, which recommends that adolescents get 8 ½ to 9 ½ hours of sleep per night.
They link sleep deprivation in adolescents to poor academic performance, traffic accidents, depression, and obesity because they tend to eat more carbohydrates and fats. Children have even been misdiagnosed with ADHD when it's really a sleep disorder.
They've found that students who get to sleep before midnight and have a later start time at school tend to be more alert and emotionally and mentally stable. They also have better attendance and academic performance and fewer car crashes.
What can parents do to help their teens get enough rest?
Provide a nutritious diet, which supports your child's mental and physical health.
Ensure they get enough exercise during the day.
Set a firm bedtime and enforce it.
Remove TV and computer screens from the bedroom.
Limit the use of electronic devices and phones in bed.
Set up a central charging station in another part of the house.
Encourage routines that encourage sleep

right before bed, such as reading.

Schedule social activities to end well before bedtime.
If you feel your child has sleep problems, consult your physician or a mental health professional, because it could be a signal for other
health problems
. As a psychologist, one of my major concerns is the long-term effects that can escalate into psychological disorders such as depression and anxiety.
Click here to download the NHLBI's "Healthy Guide to Sleep" PDF.
Read more about relaxation techniques on my website – Psychotherapy Options.