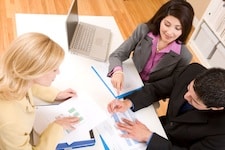 Who hasn't felt
job stress
? We all deal with it because we spend so much of our lives working secularly. The good news is that there are many positive changes we can make to create a work environment that reduces the stress that we feel. If you work with your family it's more important than ever to create a positive work environment.
Take a look at a couple of ways you can enhance your family work environment:
1. Improve your physical surroundings by creating a more restful space.
Redecorate. Lighten up your space with a fresh colors, photos, plants, motivational sayings, or items that have special meaning to you. If you're the boss, you may even want to try a new color of wall paint.
De-Clutter. How long has it been since everything was moved and thoroughly cleaned? Do you have piles of papers, books, files stacked on your desk or shelves? That clutter has a real psychological impact on your brain.
Researchers at Yale School of Medicine discovered that there are two regions of the brain that are stimulated when a person sorts through their possessions with the intent of disposing of some of them. These are the anterior cingulate cortex and insula, which also stimulate the feeling of physical pain. That means that if you have a tendency toward hoarding and you discard a valued possession, in effect your brain says that loss is the same pain as stubbing your toe. The more invested emotionally or financially in the item, the more pain there is.
Organize. You can prevent clutter by designating a specific place for everything that comes into the office. File things as soon as possible. And sort to-do items according to what must be done today, this week, and this month. The more organized you become the less stress you'll have.
2. Improve relationships with coworkers by create opportunities for good communication. When we work with family, it's easy to take one another for granted. However, it's good to remember that it boosts everyone's morale when they know they can speak up when they need to and someone will listen. This prevents festering negative thoughts and feelings. Team building events can also positively impact everyone in the office. It's also a good practice to daily look for opportunities to tell each person how much you appreciate him or her. Not only will the boss want to do this, but coworkers can express appreciation for the help their colleagues give them as well.
A positive work environment is extremely important when it comes to lessening job stress, forging strong family bonds, plus increasing your company's productivity. Here are some resources for copreneurs who want to make a success at work and at home. Also, be sure to check out the Remote Education for Entrepreneurial Couples. I'm here to help you maneuver through the unique challenges of working with your loved ones. If you live near Portland, OR/Vancouver, WA, please contact my office to schedule an appointment.
Read about how families can make work and home successful: Entrepreneurial Life.