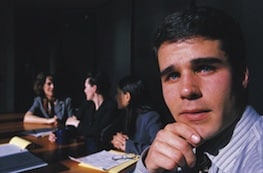 A common expression we hear today is, "
It's my way or the highway.
" Perhaps you've found yourself even saying that to a child or an employee. Sometimes, people unintentionally alienate others because they expect everyone else to think and act exactly like they do. It never occurs to them that there are many ways to be in the world, and they are all appropriate given the stage of development and personality of the individual involved.
Let me give you an example of one copreneur couple (names have been changed to protect their identities) that was helped to resolve their problems through using Dialectical Behavior Therapy to better understand this issue.
When Arthur turned forty-seven, he knew that his wife was unhappy, though what she was unhappy about remained a mystery. He loved his wife dearly and only wanted the best for her, but somehow he wasn't succeeding at meeting her needs. Since this was his third marriage, he could hardly deny that he might have a few weaknesses in the relationship department, and he was finally willing to put his ego aside to find some answers.
Dialectical Behavior Therapy (DBT) required numerous meetings during the week as the couple peeled back the layers to get to the core problem without having to explore the deeper introspection necessary in CBT. Arthur and Leslie examined their work and personal relationship and discovered that most of their conflicts emerged at work. He assumed that Leslie was just like himself, a visionary type of leader, when all Leslie wanted to do was be supportive and run an efficient office. Arthur would rush off with a new idea and leave a project dangling, assuming that Leslie would finish the project. He was happy to have her do it any way that suited her, because he was finished with it. Leslie, on the other hand, was frustrated and bewildered.
Eventually, the patience with which this couple approached their problems paid off. Arthur developed a new admiration for Leslie and allowed her the space to perform at work in just the way that fit her personality. He learned that there are other ways to do things in life besides his own, and that they all work well.
This opened his eyes to his previous relationships within his family and business. He questioned why he had taken the paths he had taken. He wondered if his selfish way of looking at people had alienated him unnecessarily from those he loved. He wondered if he had ignored certain opportunities and dismissed others simply because he wanted things done his way. All of this speculation depressed Arthur. He couldn't go back in time and do things differently.
Working through the DBT exercises made it possible for Arthur to grow through this depression. He allowed himself the regrets. And he made apologies where he could. He came to recognize this key truth: At any moment in time, we are all making the best choice we know how to, given our level of skill and life experience. Arthur was able to pull himself out of his depression and build a quality life with Leslie because he began to see the possibilities for tomorrow.
How do you push past the regrets and stay positive? Connect with me on my Facebook page, (https://www.facebook.com/Kathy.Marshack.Ph.D) and share how you focus on tomorrow's possibilities.
If you haven't done so yet, grab your hardcopy or kindle edition of Entrepreneurial Couples – Making it Work at Work and at Home.