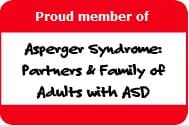 People with
Asperger's Syndrome
often develop mannerisms and behaviors that can be very distracting and even annoying to Neuro-Typical family members. There are a number of reasons why they display this behavior. One reason is that their senses are overly stimulated. Another reason is that these Asperger mannerisms are a way of creating order in their disrupted world.
For example, their over-sensitivity to touch may make them picky about what clothes they wear – it needs to be soft with the tags removed. They don't like strong smells, bright lights, loud noises, and most foods. Aspies rigidly crave routine so any variations in their schedule upset them. The same plate has to be used for dinner, objects must be lined up in a repetitive manner, certain items must never be moved, and the list of Asperger eccentricities goes on and on.
What's up with these eccentricities? Why does one person eat an orange by peeling the membrane off of each segment and then eats one kernel at a time? Why does another collect lint and roll it into a ball to keep in a jar? And still others hoard everything that comes into the house? Nothing can be thrown away, even shoes that are holey and beyond the point of wearing.
What can family members do to deal with these Asperger mannerisms so that it doesn't drive you crazy? You can find ways to accept these eccentricities if you understand the reason behind this Asperger behavior. Sharing information about "What's Up with these Aspie Eccentricities" is the topic for our next Portland, Oregon Meetup on Saturday, April 19, 2014.
The same topic will be discussed on our Teleconference Meetup – Asperger Syndrome: Partners and Family of Adults with AS on Friday, April 25, 2014. If you are a Neuro-Typical family member who needs someone to talk with that truly understands what you're going through, please join us in this discussion. We're here to support you. These calls are uniting our members from around the world from Canada, New Zealand, India, South Africa, Great Britain, South America and more!
For greater understanding of your relationship with your Asperger's Syndrome family member, check out my book, Out of Mind – Out of Sight: Parenting with a Partner with Asperger Syndrome (ASD). It picks up where my first book, Going Over the Edge? left off and goes into more depth about the science behind Asperger's.