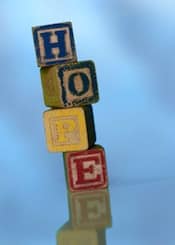 If you heard of a woman who struggled with debilitating
anxiety
, panic attacks and
depression
, who sought treatment through many medications, ongoing psychotherapy, electro-convulsive therapy, hospitalizations, and yet attempted suicide multiple times, would you hold out much hope that she would get better?
It may sound hopeless, yet her inspiring journey proves that we can change. Gayathri Ramprasad is a mother and homemaker. Her story on CNN proves that where we are right now can be changed to where we want to be. While recovering in the hospital from her last suicide attempt, she made up her mind to take charge of her life and create a life of wellness. She was tired of being chronically mentally ill and wanted to be well.
Despite the fears of many, she weaned herself off all medications under the supervision of her psychiatrist and turned to a holistic health approach as a way to achieve wellness.
First, she explored transcendental meditation. In the beginning, she couldn't sit still or be calm. In time, however, she acquired those skills. She learned how to become aware of her thoughts and emotions. Instead of letting them control her, she began to control them and to live more purposefully.
Secondly, she joined a health club and started aerobics, free weights, and yoga classes three times a week. She found that exercise energized her and elevated her mood. It also helped her create a social network outside of her family.
Lastly, she learned how cognitive behavioral therapy could transform her life. Her therapist proved to her that thoughts, feelings, moods and behavior are interconnected. To change her world she needed to identify negative, faulty thoughts and replace them with positive, life-affirming thoughts.
While this approach may not work for everyone, I believe you have all the resources within you to make changes that are as dramatic as these. My role as a therapist is to assist you in discovering these inner resources and drawing them out so you can fully utilize them. If you want to achieve your optimum health and wellness, please contact my Portland, Oregon/Vancouver, WA office to schedule an appointment. Do you have non-confidential questions about how cognitive behavioral therapy works? Join me on Facebook and let's discuss it.
Learn more about Cognitive Behavioral Therapy.