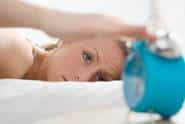 We often hear of people suffering from
sleep deprivation
– not getting enough sleep. They struggle through the day bleary-eyed and in a mental fog. Did you know, however, that these could also be the symptoms for those who sleep too much?
Is it really possible to sleep too much?
How much sleep you require depends a great deal on your general health and lifestyle habits. The common recommendation is to get on average seven to nine hours of sleep each night. If you're recovering from an illness or surgery you will naturally require more sleep. What if you don't have poor general health but you consistently sleep much more than nine hours every day? Should this be a cause for concern?
In a recent article on CNN, Are You Sleeping Too Much, Dr. Lisa Shives, director of Northshore Sleep Medicine in Evanston, Illinois, was quoted as saying that people who wake up groggy after sleeping a long time are suffering from "sleep drunkenness." If you have slept an appropriate amount of time, you should wake up feeling refreshed not feeling disoriented, anxious, with memory problems, loss of appetite or diminished social skills.
If you or someone you love is experiencing a sleep problem, there may be a condition that needs to be treated by a physician or mental therapist. It may indicate any number of disorders such as hypersomnia, sleep apnea, thyroid disease, kidney disease, liver disease, or even depression. As a psychologist, one of my major concerns about sleep disorders is that they can easily escalate into more severe illnesses, so it's important to identify the cause of your sleep disorder without delay and then learn how to deal with it.
Getting good sleep is vital to healthy living. It's the body's way of healing. One of my clients was experiencing psychosis and when he got help for his sleep apnea, he regained his normal healthy self. As a psychologist I always check the physical health issues of my clients to make sure I am treating the right problem. The mind and body are interconnected and in order to enjoy overall well-being, we must look at the both areas. If you are looking to improve your mental health, don't delay in seeking assistance! Contact my Portland OR/Vancouver, WA office to set up an appointment.
For more information visit my webpage – Overcoming Depression.