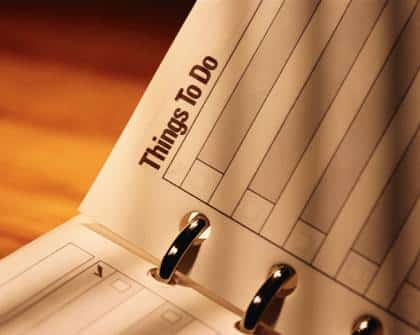 What's in your "Bucket List"? That term has become synonymous with the list of things you'd like to accomplish in life before it's too late. It refers to choosing to live in a way now so you have
no regrets later
.
What are some of the things that people regret the most? An Australian nurse who cared for the dying noticed 5 recurring regrets her patients had:
Not living a life true to self, but doing what others expect

Not taking time to enjoy life because of working too much

Not having the courage to say what you feel

Not staying in touch with friends

Not letting yourself be happy
All of these regrets involve the choices we make. It's never too late to make your life richer and more meaningful. It all boils down to your attitude and the choices you make. If you don't take yourself too seriously and do more to get involved in life and with people, you won't have regrets over the "I wish I'd done" list.
Some look at life with a glass half empty attitude, which is the negative way of thinking. Others choose to look at life with a glass half full attitude – positively working toward filling their lives with meaning.
I was honored to have an essay included in the book, Sixty Things to Do When You Turn Sixty. It helps Baby Boomers who are approaching their sixties to see the positive as you purposefully choose to make the best out of your life. My own experience taught me that even the trying circumstances in life can be turned into something positive.