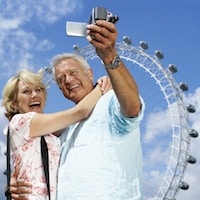 Do you remember the beginning stages of your marriage? Often times they are described as exciting, blissful, and passionate. Research shows that on average that lasts around 2 years.
  
But what happens after? That period is often called "the slump." It's interesting to note that if couples push through the slump, they usually rekindle that initial phase after the children leave the home. Life becomes new, fresh, and exciting once again. 
  
Long-term passionate love is not realistic. It comes and goes. When it is gone, many couples suffer. It's not necessarily the passion they are missing, it is the element of surprise. Surprise stems from the brain. It affects the positive emotion in our brains, promoting a stronger emotional reaction. 
 

How can you develop the element of surprise in your marriage? One simple way is by doing new and exciting activities together. Pick an activity that you both would consider exciting. The fun and excitement you experience together as a couple will only bring you closer. If you do the same-old, same-old date night every week that is bound to be boring and keep you both complacent. Another way is to look for little opportunities to surprise your mate. How about slip a note into their briefcase? Or take your husband out to a ball game? When something is unexpected and loving, your bond will only grow closer. It takes thinking ahead and hard work, but it will be worth your while! (Read The New York Times article – New Love: A Short Shelf Life.)
  
For more information, visit Marriage Counseling – Maintaining a Strong Marriage