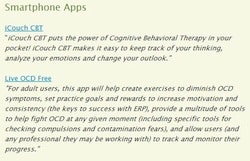 As a convenience for visitors on my website, I have a feature called "Recommended Links." I have compiled links that I recommend for additional information outside of what I provide for my clients. ADHD, Asperger Syndrome, Depression & Anxiety, and Alcohol & Drug Abuse are all topics that I have included. 
  
I have added a new topic in Recommended Links – Smartphone Apps. I recently blogged about Smartphone Apps being used as supplemental psychotherapy. I do not recommend that these Apps replace psychotherapy, but I believe they can be used in addition to psychotherapy. I will be adding Apps to this area of my website. Please check periodically for new additions.  
  
If you have found any Apps to be effective mental health tools, please contact me or add a comment.