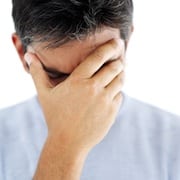 It's an understatement to say that Americans are stressed out. The reasons why people are so stressed today are almost too numerous to count. Stress is a serious danger to our society. Chronic stress leads to weight gain, heart problems, insomnia, depression, and strokes. 
Do not despair though! Stress can be controlled. Research is pointing to Cognitive Behavioral Therapy (CBT) as a powerful tool to control stress. The first step in CBT is to note activities that put a strain on energy and time, trigger anger or anxiety, or precipitate a negative physical response such as a sour stomach or headache. Also note positive experiences, such as those that are mentally or physically refreshing or produce a sense of accomplishment. The next step is to attempt to shift the balance from stress producing to stress-reducing activities. 
In a nut shell, CBT works to identify the sources of stress, restructuring priorities, changing one's response to stress, and finding methods for managing and reducing stress. By implementing this process, the goal is change the way you deal and respond to stress because stress is inevitable. After time, it becomes your new and automatic way of thinking!
Cognitive Behavioral Therapy is most effective when you work with a specialist. Set up an appointment with a mental health care professional who uses CBT. Until then, visit Managing Stress to read about 8 specific methods to reducing stress.