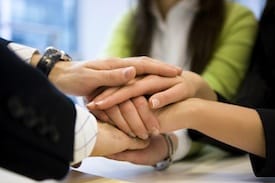 Many business owners are puzzled when their attorney or CPA suggests that they should meet with a psychologist before proceeding with signing a contract, structuring a reorganization or resolving a partnership disagreement. What's a psychologist have to do with business anyway? " I don't need a shrink," they say.
The simple truth is that getting a psychologist involved in a family business makes sense. Why?
1) Half of American businesses are family owned and operated. 2) Many of these businesses are run and staffed by family members who are not necessarily formally trained or educated for their specific job. They work for the business because they are trusted family members dedicated to the success of the family enterprise. 3) Many of these businesses have been around two or three or even four generations, which means that the children are growing up identifying themselves with the family business. What this means for many family firms is that the business is a part of the family and the family is a part of the business.
Recognizing that family businesses are really families with a business identity, a psychologist is able to get beneath the surface of some business problems to identify the emotional snags that are hanging up a business decision. There is nothing more frustrating or expensive than taking weeks and months to develop a new business strategy, only to have it sit there going nowhere because there is a family dispute.
Many family firms want to have open communication. They want to resolve longstanding family/business disputes. They don't like walking on eggshells around certain family members or avoiding sensitive subjects. In spite of good intentions, many of these family firms do not have the skills to address and resolve these problems. They need support and guidance by a psychologist who is trained in resolving problems within a family business system. They need education to learn these skills.
If you have a family business and live in the Vancouver, Washington/Portland, Oregon area, I would be happy to assist you. Contact my office to set up an appointment. For additional information, visit Entrepreneurial Life – Families in Business.