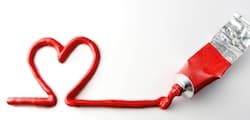 Love is an interesting emotion. You may think that love would mean the same thing to everyone, but it doesn't. This is especially true for someone with Asperger Syndrome.
Asperger Syndrome
is a high- functioning form of autism. Asperger Syndrome is demonstrated by deficits in communication, social skills and reciprocity of feelings. Because of this odd display of emotion, you could assume that an Aspie does not love, but that is not true. Everyone loves, it is just expressed differently for an Aspie.
This is the case for two Aspies, Jack Robison and Kirsten Lindsmith. Jack is the son of John Elder Robison, author of the acclaimed memoir about Asperger Syndrome, Look Me in the Eye. Kirsten was diagnosed with ADHD at age 11, but 2011, she realized that she had Asperger Syndrome. Jack and Kirsten have been dating for two years and now live together. According to them, they have found love. This isn't to say it has been a walk in the park for them. There have been challenges. To read more about Jack and Kirsten's relationship, read The New York Times article – Navigating Love and Autism.
If you are raising an Asperger child, I am sure you would agree that you would love for your child to grow up and find the kind of happiness that comes from love. If you are married to someone with Asperger's, you may feel lost and confused as to what love really means to your partner.
There are so many questions surrounding this topic. . . Do Aspie's really want or need true love? What really is true love? This will be the topic for discussion at the Asperger Syndrome: Partners and Family of Adults with ASD Meetup Support Group. This meeting will be held in Portland, Oregon on March 17. We look forward to having a lively discussion and hearing your thoughts on this very personal topic that is central to the lives of many. If you will not be able to join us in person, become part of our online family.
For more information on Asperger Syndrome, read Asperger Syndrome Frequently Asked Questions.