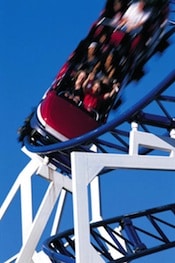 Are you always moving on to the next best thing? The personality trait, neophilia, is defined as liking anything new or being a novelty-seeker. For a long time, this trait came with a negative connotation. It was linked with ADD, addictions to drugs, alcohol, or gambling, and criminal actions. Now
researchers
are saying that neophilia combined with certain other personality traits could contribute to a sense of well-being and overall happiness.
C. Robert Cloninger, the psychiatrist who developed personality tests for measuring this trait stated, "Novelty-seeking is one of the traits that keeps you healthy and happy and fosters personality growth as you age. It can lead to antisocial behavior, but if you combine this adventurousness and curiosity with persistence and a sense that it's not all about you, then you get the kind of creativity that benefits society as a whole."
Dr. Cloninger says that the secret lies in a "trio of personality traits". That trio is novelty-seeking, persistence, and self-transcendence. Persistence gives you the motivation to keep trying even if you don't get what you want immediately. If you're persistent, you look for new and better ways to achieve. Self-transcendence refers to getting lost in your thoughts or in moments and allowing amazing connections to form.
For more on this fascinating look at neophilia, read the NY Times article – Novelty-Seeking (Neophilia) Can Be a Predictor of Well-Being. If you are a neophiliac and want to get the most out of this personality trait, seeking therapy can be highly beneficial. If you do not seek to use this trait in a positive or effective manner, it could lead to extreme frustration and disappointment. Contact my office to set up an appointment if you live in the Portland, OR/Vancouver, WA area.