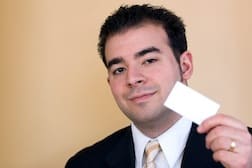 Would it surprise you to know that con artists and manipulators are not that different? The only real difference is that a manipulator has created an illusion that they are different, that they would never stoop to the level of a con artist, or that they would never willfully take advantage of a person that way. In my work as a Family Business Consultant, I have seen firsthand that being an manipulator in a family and family business can be devastating both emotionally and financially. It is important to ask yourself if you exhibit manipulative qualities before it gets out of hand.
To investigate your manipulative qualities, ask yourself a few questions…and be HONEST!

1. Are you in sales? 2. Does your business require that you use persuasion, diplomacy, and charm? 3. Have you ever lied? 4. Have you ever taken advantage of another's ignorance or naiveté? 5. Have you kept something you didn't pay for? 6. Have you ever cried in order to get your way? 7. Have you ever intimidated your opponent into capitulating? 8. Have you ever hurt someone else? 9. When you have hurt someone else, did you say, "I didn't mean to do it." 10. Have you kept a secret to avoid conflict? 11. Have you ever "dropped names"? 12.Have you ever changed the subject when the topic was too close for comfort? 13. Just once, was money your only concern?
The tools of persuasion, diplomacy and charm can be used ethically or unethically. They are like a hammer and screwdriver. The hammer and screwdriver can be used to build a house or to break into someone's home. The choice is up to the individual using the tools. Likewise, persuasion, diplomacy and charm can be used to swindle or to negotiate a mutually rewarding settlement.
If you truly want to end the con game within your family firm, you need to take a look at your own manipulative nature. Being conscious of your own manipulations, even the ones that you didn't mean to do, allows you to be ethical. With consciousness comes choice. Choosing to be ethical in your communications and dealings with others requires that you take the time to understand others and to be understood fully.
Another way to investigate your own manipulative nature is to ask others how they feel. In a family this is a perfectly legitimate question. Because you may be hot on an idea and have charmingly persuaded everyone else to cooperative with you, does not mean they all agree with you. Check it out. If you have bullied the others into submission, or charmed them into acquiescing, but deep down inside they do not agree, what kind of agreement do you really have? How much support are you really going to get in the long run? Do you really have your family's trust or are they just afraid of you?
If your goal is to make a lot of money or to have a lot of power, and you don't care how you do it, then there is no point in your reading this. But if you truly want to prosper as a family as well as a family in business, then it requires time to clean up the covert confidence games that are played at home and at work with the ones you love.
For more information on this topic, read my article – Recognizing Manipulation Can Save The Family Business