One of the most challenging of lifestyles is working with your spouse in a thriving business. Most entrepreneurial couples love the opportunity to be independent, in charge of their own destinies, and to work alongside the one they love and trust most. What do successful entrepreneurial couples need to know to keep a marriage and a business on track? One strategy is to renegotiate the partnership.
Keeping the love alive as an entrepreneurial couple must be the top priority. If there is no time to give or receive love, from each other, then it becomes time to renegotiate the terms of the partnership. If life isn't meaningful or fun for either of you, it is time to re-evaluate the marriage or the business partnership or both.
In order to keep a business healthy, a business owner must not only be aware of market trends, but they must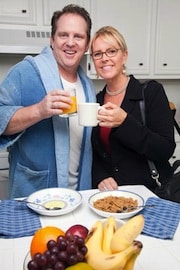 also be prepared to alter their business plan accordingly. The same principal applies in your personal life. What are some reasons for negotiation? A marriage agreement that worked when you were twenty, may be outdated for a couple in their forties. Or aspects of the marriage contract may be archaic while others are still solid. Don't throw the baby out with the bath as the saying goes, but if some things need changing, do it now, or suffer the consequences of a loveless marriage.
I have met too many entrepreneurial couples where the only thing holding them together is the business. They have forgotten that the business is a function of their love for each other. By recognizing that the love is diminishing in your relationship and by being willing to renegotiate the terms of your marriage and partnership, you may be able to rekindle the romance and re-direct the business to new heights.
So, when you get off course, stop and renegotiate the terms of the contract, so that you can nurture and sustain business and marriage growth. If you find that you are unable to renegotiate on your way, you may want to seek the assistance of a psychologist who specializes in this type of therapy. Often problems that have a couple stuck, can be unraveled with professional help. For an appointment, please contact my office for more information.
For more information, visit Marriage Counseling – Entrepreneurial Couples. Available for purchase Do You Have What it Takes to Work with Your Spouse? Workbook.