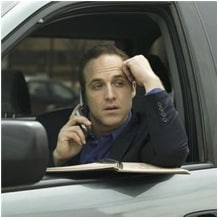 Entrepreneurs are usually labeled workaholics. They are known for working long hours, nights and weekends, and are addicted to checking their email on their I-Phone or Blackberry. So you may like the idea of owning your own business but shy away from it because of the image it conjures up. The good news is that it doesn't have to be that way. Being an entrepreneur can actually help you to work less and lead a healthier happier life. A perfect example of this is Brett Schklar.
I recently read an article about Brett –
Work Less (It's Good for Business)
and thought he is a great example of what an entrepreneur should strive to be. As a vice president of a company, Brett was going full speed ahead with his work, but neglecting his family and his health. A heart attack at young age of 31 caused him to slow down and reevaluate his life. He started his own business which allowed him to have better control over his time and his health. Now he has a flourishing business and is working less and enjoying life more.
Owning your own business can be extremely challenging and some allow it to take control over their lives. The key is to set definite boundaries about what you will and will not do and stick to them. Make sure you set aside personal time for yourself and for your family. One way to do this is to schedule it in your calendar ahead of time. Being a happy and healthy person is not only going to affect your personal life, but also your business. Remember that you are the boss and have control over your life!
For more information on the entrepreneurial life, please visit my
tip section
 or
call my office
if you need a more personal and in-depth consultation on this subject.