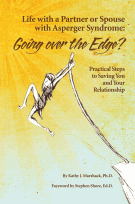 I continue to hear from many who wish that there were more avenues to spread the word about relationships with loved ones who have Asperger's. I have also felt this way which prompted me to write my book,
"Life with a Partner or Spouse with Asperger Syndr
ome: Going Over the Edge?" 
I recognize that many are unable to write a book to express their thoughts and feelings on the subject, but there are other ways to share.
There has been an amazing response after establishing the Asperger Syndrome: Partners & Family of Adults with ASD support group. The Meetup.com message board has become a place for many around the world, not just in the Portland area, to come and share their thoughts, stories, and essays. One particular article stirred up over 200 views. I would like to continue encouraging you to use this incredible resource to spread the word about ASD relationships.
Slowly but surely this topic is getting more attention. Take a look at a recent book review on "Going Over the Edge?" on About.com – http://learningdisabilities.about.com/od/parentsandfamilyissues/gr/Marshack.htm. I want to take this opportunity to thank you for your continued support. As a united front, we can spread the word about living with and loving our family members with Asperger Syndrome.