Ready for summer? Sunscreen, a volleyball and maybe passports too?
If you got that covered, I will talk about what most parents with diagnosed children on the Spectrum really want to hear, which is how you can not only survive the summer, but actually enjoy it as well.
As parents, we love our children and we do whatever we can to make their lives happy and healthy.
One thing I always recommend is to not stop medication over summer. Children with ADHD especially thrive on structure and school gives them just that. Medication will make it easier for him to behave in school, but that's not the only time he needs it. Without medication, it's harder for him to be around others and participate in certain activities. Your carefully planned vacation can turn into a nightmare quickly for the whole family, including the little one.
Do not renegotiate the rules. You already have established when your child can watch TV and when it's time for bed. While you will be tempted to be more flexible during holidays, this will bring you a lot of stress and struggles just in a few weeks. Ten extra minutes in front of the TV will turn into an hour. Don't change a routine that is working for the entire family depending on the time of the year.
A risk you can face in general, but more during summer months as you spend more time together, is your tendency to shield your child from everything that might put a shadow on his face. As children overcome adversities, their self-confidence grows. They'll feel more in control. The key to good parenting is not protecting kids from everyday adversity, but encouraging a positive attitude toward stress. However, don't forget to enjoy your summer as well. If you are struggling with being a helicopter parent, here are the lessons I learnt from being one.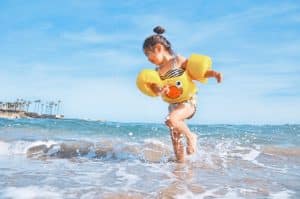 How about summer activities? Create a safe playground in the backyard, where your hyperactive children can exercise with their friends. In this article from ADDitude Magazine you can get a few tips for activities appropriate to each age group (young, school age and teen).
If you are thinking of summer camps, my best advice is to find a summer program that offers activities your child really enjoys and maybe one where some of his friends are already going. The 2019 ADHD Camp Guide contains a list with camps for children with attention deficit disorder and learning differences.
Parenting a child on the Spectrum can be hard, I'm speaking from my own experience. In our MeetUp community you can read and get involved with other parents who are sharing the same struggles as you do.
I've written a book about co-parenting with an Asperger Syndrome partner. It's called "Out of Mind—Out of Sight: Parenting with a Partner with Asperger Syndrome (ASD)". It is important to recognize that if we don't reveal the dark side of these relationships, we can't search for solutions to the all too real problems of the AS/NT family. The last thing I want to do is leave NT parents with the feeling that they are alone. Erasing that loneliness is the first step toward parenting successfully with an "Aspie" co-parent.
If you have suggestions for other parents on how to survive summer, please leave a comment!