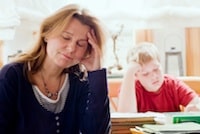 Autism and Narcissism have something in common. They are both empathy disorders, the result of the individual not having a
Theory of Mind
. What this means is that they don't recognize that another person has beliefs, desires, intentions, feelings and perspectives that differ from their own. Empathy is a
complex system
that requires the brain to connect
Emotional Empathy and Cognitive Empathy
.

Since Narcissism and Autism display similar traits, how can you tell the difference between Narcissism and Asperger's?
First, Autism is a diagnosis and narcissism is only a trait of many disorders.
Second, not all Autistics are the same since it is a spectrum disorder.
Third, all Autistics are narcissistic since a defining characteristic of Autism is lack of empathy.
It's important to know that it isn't narcissism per se that defines the Autistic. It is how the Autistic works with their tendency toward narcissism, self-absorption and lack of empathy. If the Autistic takes responsibility for their narcissism and truly wants to repair the rifts that their unempathic behavior creates, then there's hope for the relationship.
On the other hand, if the Autistic believes that their singular narcissistic worldview is all that matters, then it's probably irrelevant that they're diagnosed with ASD (Autism Spectrum Disorder). This person tips toward narcissism and that's how they need to be treated.
If you've wasted too much of your precious life trying to accommodate an ASD narcissist, whether it's a family member, coworker or neighbor, then I invite you to join our Asperger Syndrome: Partners and Family of Adults with ASD Meetup. We have monthly discussions that will help you deal with this crazy making life.
Our next free international teleconference: How is Autism different than Narcissim? will be held on Thursday, February 16, 2017 at 2:30 PM. You'll find out how to distinguish whether it's narcissism or Autism that you're dealing with. That makes all the difference in how you'll respond.
If you live near Portland, OR/Vancouver, WA and you need some 1-on-1 with me to discuss your situation privately, please feel free to contact my office and we'll schedule an appointment to discuss ways to improve your situation.