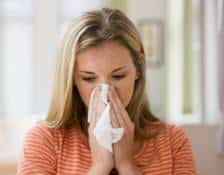 Why is it that, while your allergies don't normally hit you so hard, today of all days it's much worse? Why does this have to happen right before your big presentation at work? Or the week of your wedding? Your eyes water uncontrollably, you sneeze and wheeze, and your skin rash itches like crazy. Are you just imagining it? Or could there be a correlation between stressful situations and increased allergies reactions? According to a recent
study by Ohio State University researchers
, stress can indeed be a factor in allergy flare-ups.
The author of the study, allergist Amber Patterson makes this interesting comment, "We know there's a connection between our neurology and our immunology. What we ultimately found is that some people with allergies have a more sensitive neuro-immunologic trigger."
Knowing this connection, allergy sufferers can alleviate stress by:
A free resource you might want to try is WildDivine's Schedule of Recent Experience. It's a tool to help you understand how recent events in your life can be contributing toward your stress levels. Once you gain this awareness, you can take appropriate actions to solve the underlining stressors.
If you can't get your allergies under control by yourself, consult a certified allergist and ask if stress is a contributing factor. He or she can recommend a trained psychologist who can help you manage that stress. Or you can contact my Portland, OR/Vancouver,WA office and schedule an appointment.  As a NET practitioner, my clients have found Neuro Emotional Technique and hypnosis to be very effective in treating allergic reactions due to stress.
Please join me on my Facebook page, (https://www.facebook.com/Kathy.Marshack.Ph.D) and share how stress has affected your allergies.
Learn more on my website – Managing Stress.