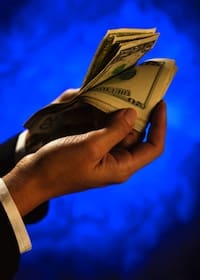 When I first met them, Barb and Kevin they were on the brink of divorce. As an entrepreneurial couple (Barb a solo entrepreneur and Kevin a well-paid sales executive), they had the ability to create considerable wealth, but they were always at the point of financial ruin.
Instead of planning for wealth, instead of examining their beliefs about money, instead of working out a life plan together, Barb and Kevin just spent their money. They bought a huge house in the country for their four children, which required long commutes for everyone. They bought expensive cars. They bought a horse for their oldest daughter and paid for private riding lessons. They bought minibikes for their sons. And they recently sold one boat only to buy themselves a bigger one.
When Barb and Kevin sought my help, divorce was a foregone conclusion. Their debts were so large that they could not afford to cut back at work. In fact, they had to work longer hours to make ends meet. Therefore, they had no time for each other and to nurture the marital relationship. They also had no time for their children, who were now reacting to the lack of parental attention and supervision. The older children started turning in failing grades at school, and one son was regularly being suspended for fighting. The younger children were quiet and frightened; never knowing if their parents were going to fight, they hid in their rooms a lot.
Barb and Kevin thought that making money meant spending it. As they fulfilled one desire, another arose to take its place. As they made more money to pay or their increasing desires, they needed more. They lost track of why they had married in the first place. They lost track of what was exciting and appealing about their careers; their careers became just a way to feed their ever-increasing desires.
They tried to handle the enormous responsibility of rearing four children by buying them things, expensive things, and sending them to fancy summer camps. There is nothing inherently wrong with making money, nor with spending it. However, like everything else in life, if money matters outweigh everything else, there are likely to be unhealthy repercussions. It may seem contrary to common sense that satisfying a desire creates yet another desire, but this is a basic principle of human nature.
It is important, especially for entrepreneurial couples, to take the time to assess your values about money. In my book Entrepreneurial Couples – Making it Work at Work and at Home there are many self-assessment exercises, including one on Your Financial Plan. Self-Assessment is a good place to start in reeducating yourself about money, redefining your attitudes about wealth, and planning for the healthy management of your wealth. With clear values guiding your life plan, you are in a much better position to accomplish your goals, achieve wealth, and maintain a healthy balance between love and work. If, on the other hand, you are not aware of the values that guide you, you can fall into money traps just like Barb and Kevin.