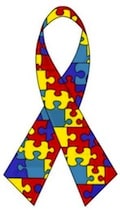 According to the Autism Society, 1 to 1.5 million Americans live with an autism spectrum disorder. If that includes you or a family member you may want to consider attending the upcoming
42nd Autism Society National Conference and Exposition
. This is the largest autism conference in the nation and it will be held on July 6-9, 2011, at the Gaylord Palms Resort and Convention Center in Orlando, Florida.
According to The Autism Society – Conference website, "The Autism Society recognizes that families and individuals living with an autism spectrum disorder have a range of issues and needs. Our National Conference addresses the range of issues affecting people with autism including early intervention, education, employment, behavior, communication, social skills, biomedical interventions and others, across the entire lifespan. Bringing together the expertise and experiences of family members, professionals and individuals on the spectrum, attendees are able to learn how to more effectively advocate and obtain supports for the individual with ASD. The ultimate goal is to empower family members, individuals on the spectrum and professionals to make informed decisions."
Attendees will gain knowledge of the latest research in the field, connect with parents and professionals, and learn about local and national resources. Autism Asperger Publishing Company (AAPC) will have a booth at the conference with many of their highly-respected authors presenting more information and offering book signings. (AAPC published my book, Life with a Partner or Spouse with Asperger Syndrome: Going Over the Edge?.) Click here for more information about the conference.